ZL Powder Rotary Granulator Application
ZL rotary granulator is a new type of granulation equipment which is designed by our company according to the needs and requirements of many users, referring to the advanced granulation equipment abroad, digesting and absorbing its advanced technology, carrying out innovative design and trial production successfully.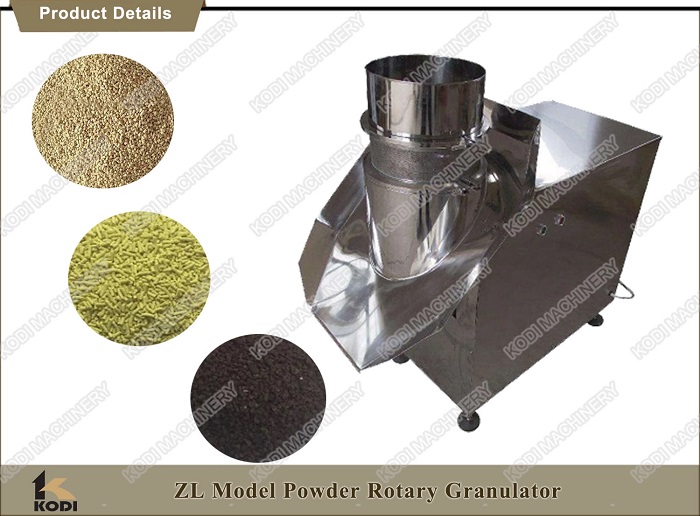 Applications of ZL Powder Rotating Granulator
Rotating granulator is used for pharmaceutical industry, foodstuff industry, drinking reagent industry, chemical industry, solid industry. It can make the mixed raw material become the needed granule. Particularly it is suitable for raw materials with high viscosity.
The place where should be contacted with raw material and outer sealing place are made of stainless fully. Its appearance is beautiful and taste and its structure is reasonable. The finished product can be discharged automatically. Therefore it can avoid the broken condition of granule caused by manual discharge. It can also suitable for flow production process.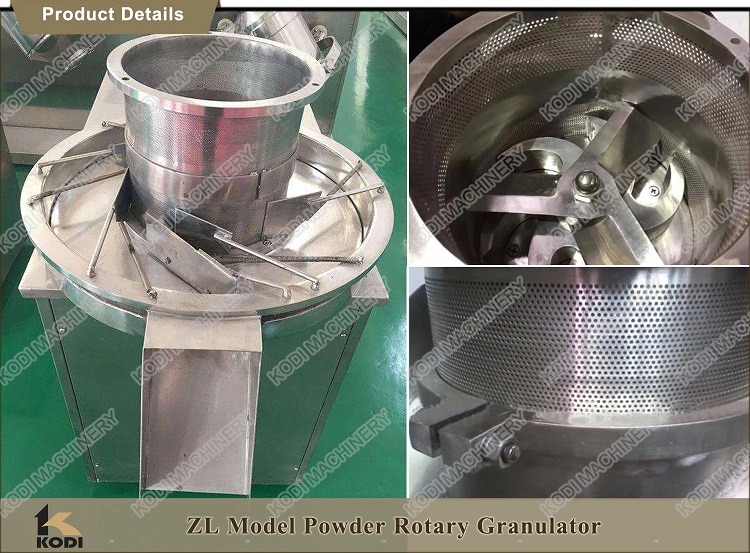 Advantages of ZL Powder Revolving Granulator
Its biggest advantage is that it can adjust the speed of milling cutter according to the different viscosity of material. The blade can be adjusted according to the viscosity of user material. Loose material adjustment high), can make granulation homogenization, beautiful particles, easy to operate, long service life, meet the GMP requirements.
Features of ZL Powder Rotary Granulator
1. Robust,simple and compact design requires minimum maintenance;
2. Made by SUS304 or SUS316 and mirror polished to meet GMP pharmaceutic sanitary standards.
3. Uniform granules, higher output, less fines and low noise.
4. Special drive shaft sealing design can 100% make sure contamination free of product.
Technical Parameters of ZL Powder Rotating Granulator
| | | | |
| --- | --- | --- | --- |
| Model | 250 | 300B | 300D |
| Diameter of granule (mm) | 2-2.2 (decided by customer's requirement) | 1.2-3 (decided by customer's requirement) | 0.5-6 (decided by customer's requirement) |
| Motor power (kw) | 3 | 4 | 7.5 |
| Overall dimension (mm) | 700x540x1300 | 880x640x1300 | 1300x800x1200 |
| Weight (kg) | 350 | 400 | 780 |
Successful Experience Overseas By KODI FL Powder Fluid Bed Granulator Price