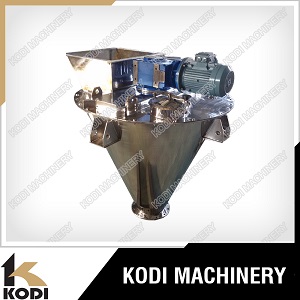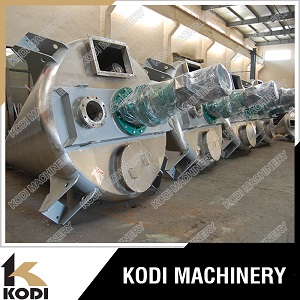 Description of Industrial Double Screw Cone Mixer
This mixer is a new type of high-efficiency, high-precision mixing equipment, widely used in pharmaceutical, chemical, feed and other unemployed powder mixing.
This type of chemical machinery has a wide adaptability to mixed materials, does not overheat heat-sensitive materials, does not pressure feed and grind granular materials, and mix materials with large contrast weights and different particle sizes will not cause chip separation.
Main Use and Application of Industrial Double Screw Cone Mixer
This machine is a new type of mixing equipment with high efficiency and high precision.
It is widely used in chemical industry, medicine, pesticide, dye, petroleum, metallurgy, building materials and other powder and powder (solid-solid), powder and liquid (solid-liquid), liquid and liquid (liquid-liquid) mixing, reaction, drying, cooling.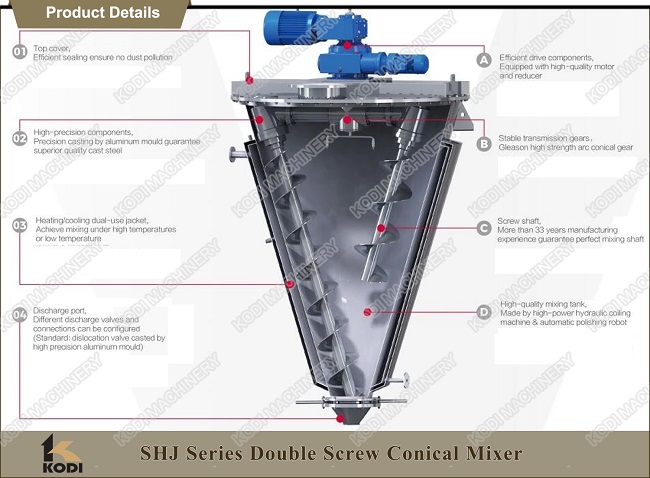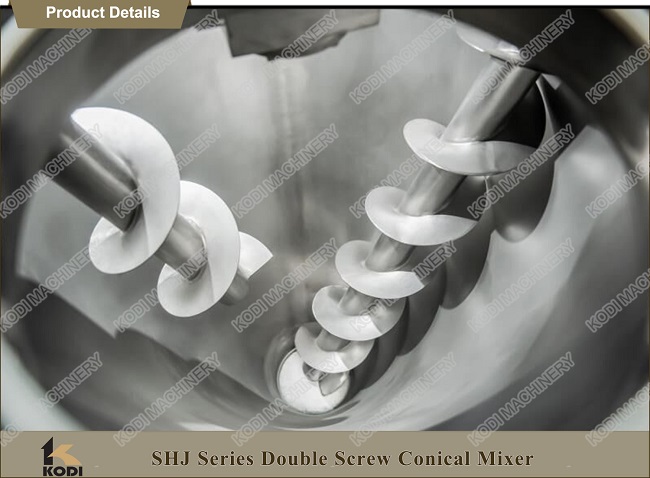 Features of KODI Double Screw Cone Mixer
1) The mixing time is short and the efficiency is high, which can increase the efficiency by 2 to 3 times.
2) The mixing capacity is large, and the charging coefficient is 20-30% higher than that of the drum type, and 25-40% higher than that of the V-type mixer.
3) The mixing precision is high, the energy consumption is low, and it can be reduced by one-half (referring to the unit weight of the material).
4) The bottom of the material is discharged quickly, and the material is discharged cleanly.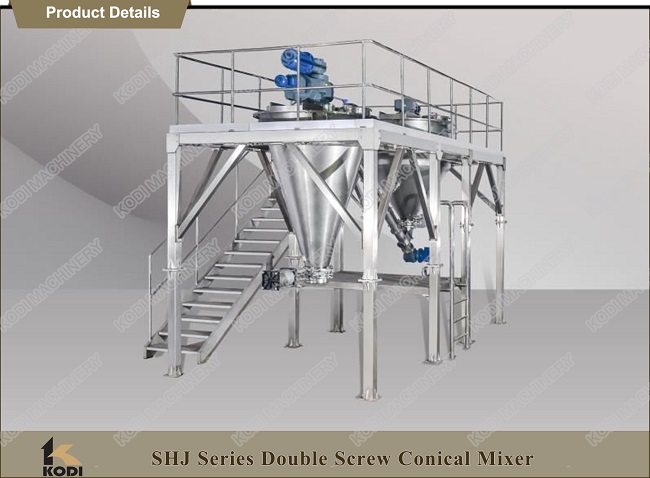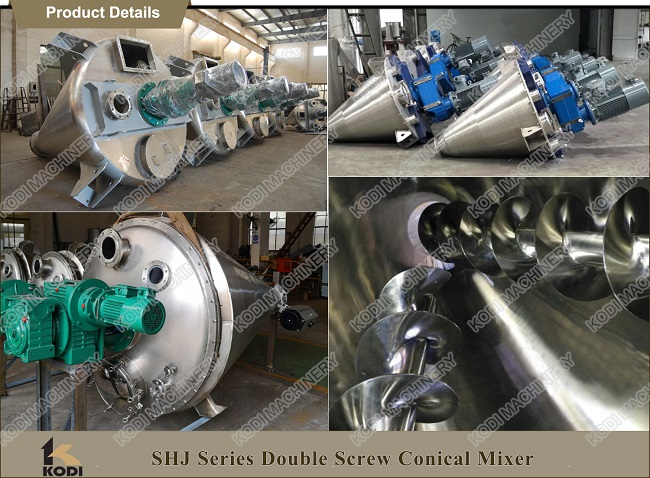 Technical Parameters of Horizontal Spiral Ribbon Mixer
| | | | | | | |
| --- | --- | --- | --- | --- | --- | --- |
| Type | Capacity(L) | Height of Cylinder(H) | (D x H) | Power(kw) | Outlet(mm) | Weight(kg) |
| SHJ100 | 50 | 838 | 690x 1480 | 2.2 | 150 | 180 |
| SHJ150 | 80 | 938 | 839x 1580 | 3 | 180 | 220 |
| SHJ300 | 150 | 1150 | 950x2060 | 3 | 210 | 500 |
| SHJ500 | 300 | 1440 | 1150x2350 | 4 | 210 | 600 |
| SHJ1000 | 600 | 1840 | 1580x2840 | 5.5 | 260 | 1200 |
| SHJ1500 | 800 | 2150 | 1764x3180 | 5.5 | 278 | 1350 |
| SHJ2000 | 1000 | 2405 | 1950x3435 | 7.5 | 278 | 1500 |
| SHJ3000 | 1500 | 2680 | 2170x3760 | 7.5 | 278 | 2300 |
| SHJ4000 | 2000 | 2920 | 2280x4362 | 11 | 390 | 2520 |
| SHJ5000 | 3000 | 3215 | 2470x4560 | 15 | 390 | 3310 |
| SHJ6000 | 3500 | 3400 | 2560x4785 | 15 | 390 | 3550 |
| SHJ8000 | 4200 | 3780 | 2790x5590 | 18.5 | 390 | 3700 |
| SHJ10000 | 5000 | 4120 | 3000x5920 | 18.5 | 390 | 4500 |
| SHJ12000 | 6000 | 4335 | 3210x5995 | 22 | 390 | 4800 |
| SHJ15000 | 8000 | 4750 | 3450x6350 | 22 | 500 | 5500 |