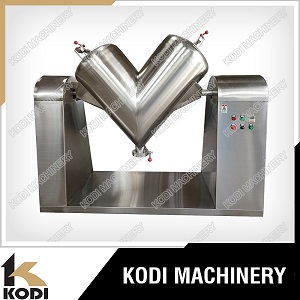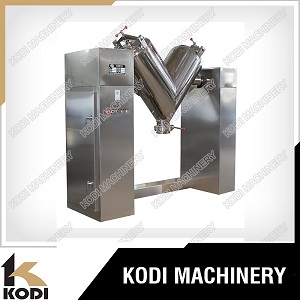 Description of V Type Powder Mixer
Our factory researched and manufactured Model VI forced stirring mixer on the basis of absorbing abroad high technologies.This machine can mix fine powder, caked or more two powder raw material, raw materials containing certain moisture. Particularly it can also mix raw material that needs to add small amount of additive and satisfied effect can be got too
Features of V Type Powder Mixer
Unique structure of mixing tank, high mixing efficiency, free of dead corner and even mixing. The mixer is made of stainless steel with inside and outside walls polished. The machine can also increase to mix blend the founction compulsory. It can mix thin powder and more than two form powders including the materials that contain water.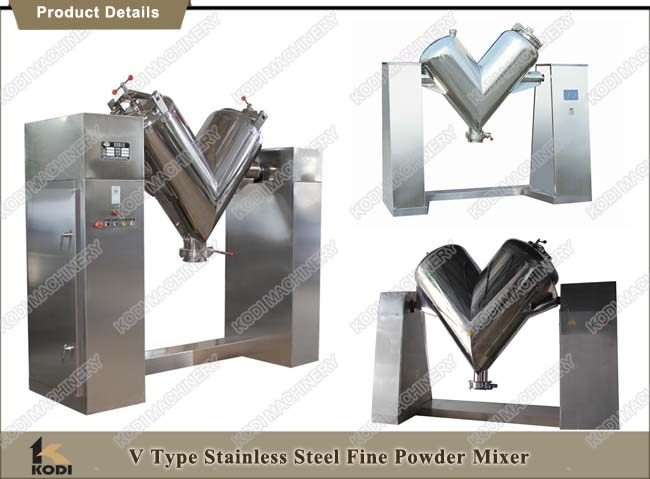 Working Principle of V Type Powder Mixer
The mixer cylinder is an asymmetric V-Shape. On the top there is a quick open turn cap for feeding. And there is a turn valve on the bottom for discharge.
Feeding on the top, then turn the quick open handle. Set the mixing time on time relay, then "start", the mixing cylinder will rotating by axes. The materials are evenly mixed in the V cylinder, and will stop mixing upon time due. Press "Start"/"On" and "Stop"/"Off", so that the discharge valve will face downwards for discharge.
Drawing of V Type Powder Mixer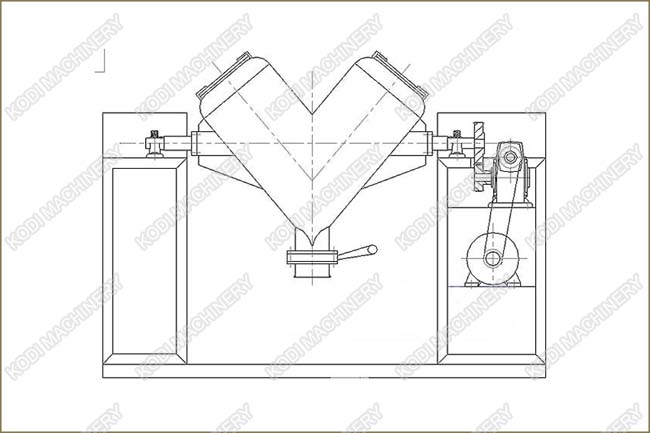 Customers Project Site of KODI V Type Powder Mixer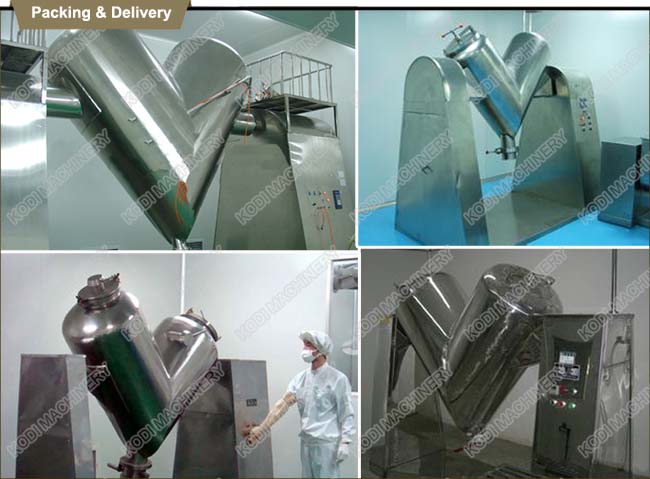 Packing and Delivery of KODI V Type Powder Mixer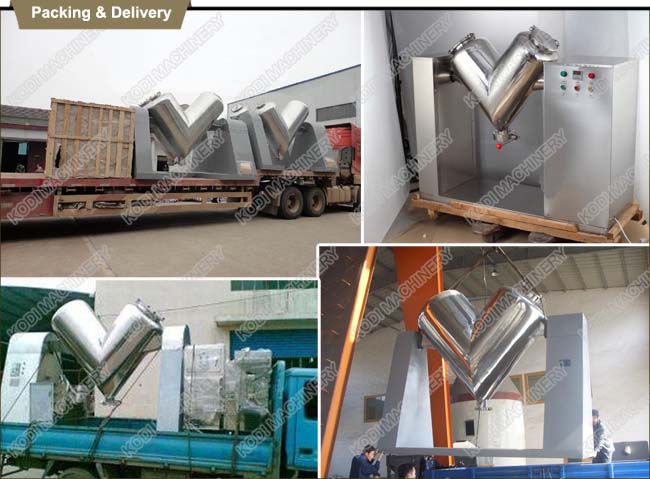 Technical Parameters of V Type Powder Mixer
| | | | | | | | | |
| --- | --- | --- | --- | --- | --- | --- | --- | --- |
| model | Product capacity (kg/batch) | volume(m3) | Mixing time (min) | Power (kw) | revolution of cylinder (r/min) | Stirring speed(r/min) | Overall dimension (mm) | weight(kg) |
| VI-180 | 60 | 0.18 | 2-5 | 1.1×2 | 12 | 500 | 1730×700×1500 | 320 |
| VI-300 | 80 | 0.3 | 4-10 | 1.1×2.2 | 12 | 500 | 2005×700×1760 | 360 |
| VI-500 | 130 | 0.5 | 4-10 | 1.1×2.2 | 12 | 500 | 2660×1250×2400 | 600 |
| VI-1000 | 240 | 1 | 6-10 | 3×2.2 | 12 | 500 | 3220×1500×2840 | 100 |