Glass Lined Reactors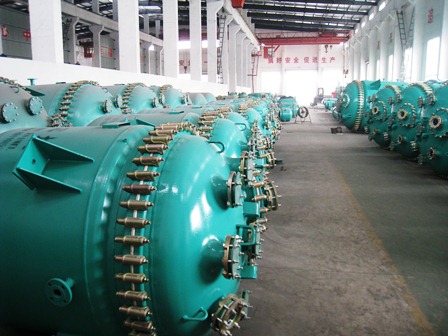 The glass-lined equipment is made by coating the high silicon content enamel onto the surface of metal body and then firing them at high temperature ( ~ 900 ) in order to achieve a high adhesive strength of the enamel on the steel basic body. The glass-lined equipment, therefore, has high mechanical features and corrosion resistance. Substituting stainless steel and nonferrous metal equipment, the glass-lined equipment is widely used in fine chemical, pharmaceutical, dyestuff, pesticide, metallurgical and food industries.

Corrosion Resistance Stability: Very high corrosion resistance against inorganic acid, organic acid, organic solvent with different concentration and weak base, but not applicable to alkali, hydrofluoric acid, fluoride-bearing medium and phosphoric acid with concentration above 30% at temperature over 180.

Resistance to Impact: 220-10-3J.

Thermal Shock Resistance: Resistance to sudden cooling 110, Resistance to sudden heating 120.

Insulation Performance: The enamel surface should be strictly tested at 20KV.