Heat Pump Dryer Description
The air energy heat pump dryer has the characteristics of energy saving and environmental protection, no pollution, low energy consumption, intelligent control of temperature and humidity, no manual operation in the whole process, time saving and labor saving, no season, weather influence, continuous uninterrupted production and so on. The main loss in the drying process is moisture, a large extent to retain the original flavor of food, color and nutrition; the finished product after drying good color, nutrition retention integrity, is the ideal choice of material drying equipment.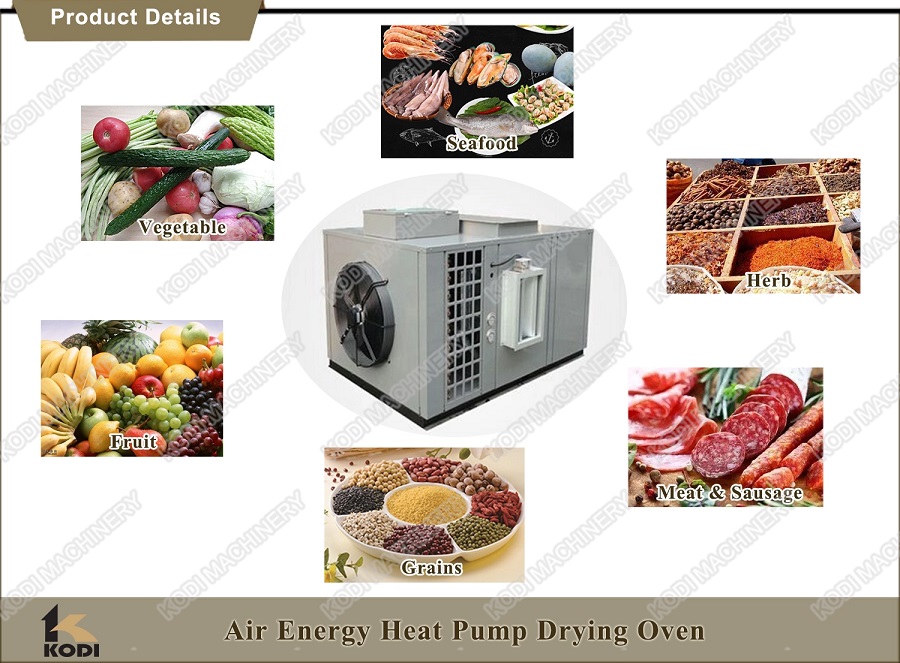 Heat Pump Dehydrator Application
Food drying: noodles, brown sugar, tremella, rice noodles, gluten, dried bean curd, chestnut, curd, etc;
Chinese herbal medicine drying: lycium barbarum, yam, ginseng, chrysanthemum, Ganoderma lucidum, honeysuckle, rose and so on;
Vegetable drying: pepper, vegetables, mushrooms, sweet potato strips, peanuts, garlic, ginger, beans and so on;
Fruit drying: red dates, longan, persimmon, kiwifruit, banana slices, raisins, lemon slices and so on;
Meat products: sausage, bacon, beef jerky, duck, chicken and so on;
Sea products drying: sea cucumber, abalone, shark fin, kelp, porphyra, dried fish, squid, prawn;
Industrial drying: charcoal, wood, incense, mosquito incense, leather, printed matter, paper cylinder, fiber, fabric, packaging materials, etc.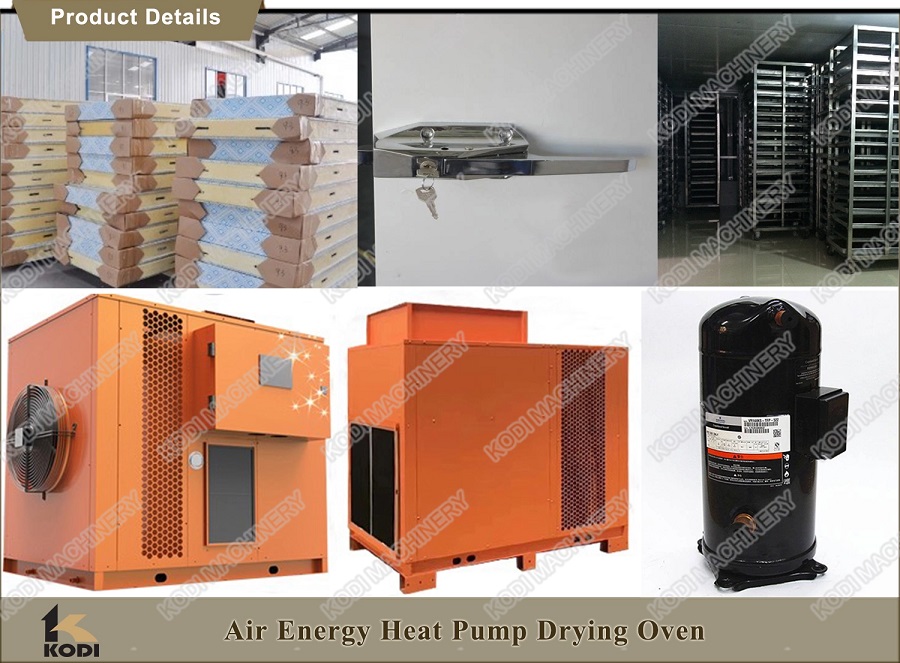 Heat Pump Drying Oven Working Principle
After filtering and heating, the hot fresh air enter into the air distributor at the top of drying chamber, distributed in spiral way uniformly from up to down. At the same time, the feeding liquid is pumped to the top atomizer, then be sprayed to extremely fine mist liquid drop. Through the short time of direct contact with hot air, the moisture evaporated at once, the solid remains to be powder. The dry powder will be discharged continuously from the bottom of drying tower and cyclone collector, the exhaust air will be discharged after cleaning.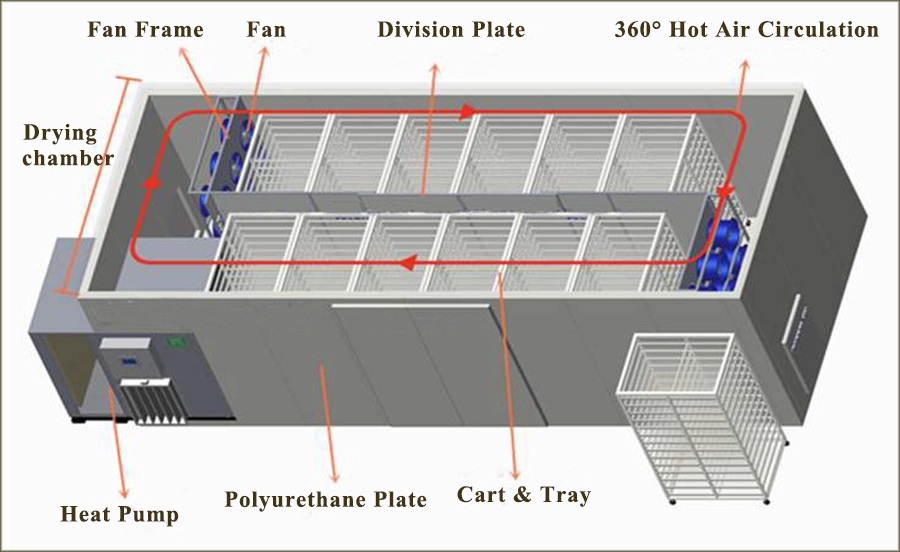 Heat Pump Dryer Technical Data
Type

6P

8P

16P

Size

3.8*2.5*2.2m

4.8*2.5*2.2m

9.5*2.5*2.3m

Capacity

500-1000kg/batch

600-1200kg/h

15000-2500kg/h

Max working temperature

~90℃

The number of the fan

6

8

16

Power

3.75kw

6kw

12kw

Put trolley number

6sets

8sets

16sets

Weight

1200kg

1500kg

2500kg