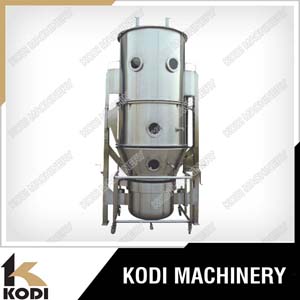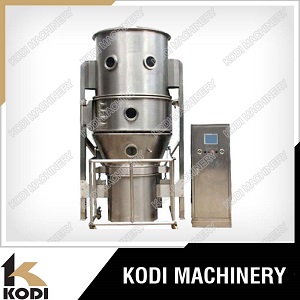 What is Instant Granule
Instant coffee, also called soluble coffee, coffee crystals and coffee powder, is a beverage derived from brewed coffee beans. Instant coffee is commercially prepared by either freeze-drying or spray drying, after which it can be dehydrated. Instant coffee in a concentrated liquid form is also manufactured.
KODI FL Fluid Bed Granulator Application
KODI High Efficiency Fluidized Bed Granulator is mainly used for the operations of mixing, granulating, drying and coating of granule "Top Spraying", etc of powder material in pharmaceutical industry, foodstuff industry, chemical industry, etc. Such as granule of tablet, granule for quick resolving drinking, condiment.
The machine is manufactured in accordance with JB20014-2004 Fluid-bed Granulator In Medicine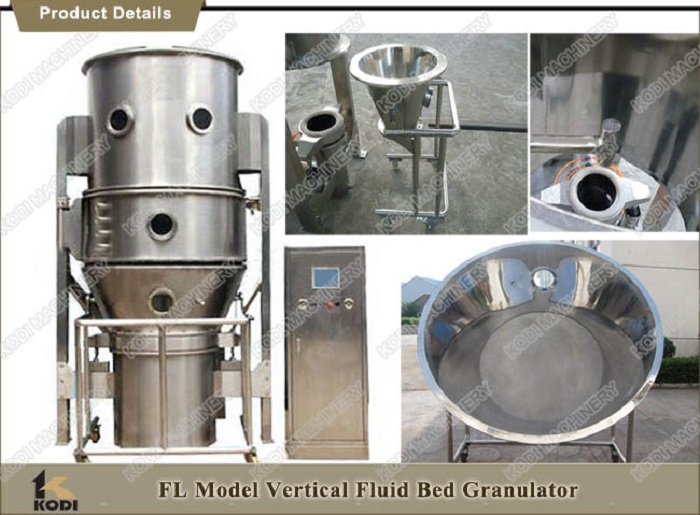 Features of KODI FL Fluid Bed Granulator

1. Mixing-granulating-drying in one-step.
2.Adopting double chamber filtering bags system, remove dust completely.
3.Adopting multi-fluid nozzle, it guarantees that the formed granule is uniform and the content of powder is very low.
4.Can choose 2 bar explosive-proof design
5.Designed, manufactured and laid out by GMP
Working Principle of KODI FL Fluid Bed Granulator

The Powder granule the container (fluidized bed)appear the state of fluidization. It is preheated and mixed with clean and heated air. At the same the solution of adhesive solvent is fogged and sprayed into the container. It makes the Same particles become granulating that contains adhesive. Being of unceasing dry through hot air, the moisture in the granulating is evaporated and the adhesive is solidification. The process is carried out continuously. Finally it forms ideal, uniform and porous granules.
Drawings of KODI FL Fluid Bed Granulator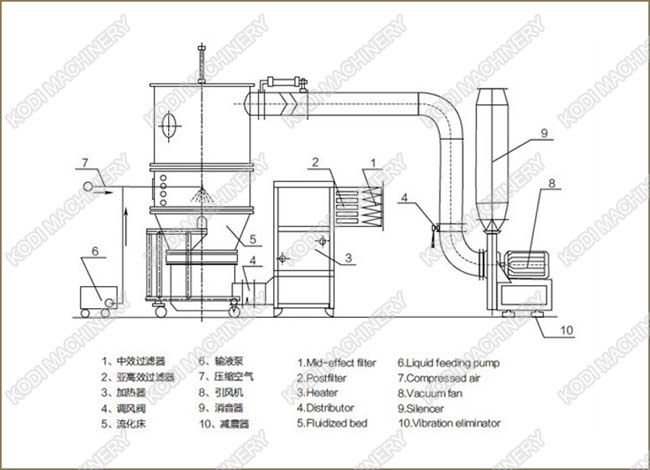 Technical Paramaters of KODI FL Fluid Bed Granulator
Item

unit

Model

3

5

15

30

60

120

200

300

500

container

Volume

L

12

22

45

100

220

420

670

1000

1500

Diameter

Mm

300

400

550

700

1000

1200

1400

1600

1800

Capacity

Min

Kg

1.5

4

10

15

30

80

100

150

250

Max

Kg

4.5

6

20

45

90

160

300

450

750

Fan

Capacity

m3/h

1000

1200

1400

1800

3000

4500

6000

7000

8000

Pressure

mmH2O

375

375

480

480

950

950

950

950

950

power

kW

3

4

5.5

7.5

11

18.5

22

30

45

Steam consumption

Kg/h

9 kW

12

42

70

141

180

282

366

451

Compressed air consumption

m3/min

0.3

0.35

0.6

0.6

0.9

0.9

1.1

2.0

2.4

Weight of main body

Kg

500

700

900

1000

1100

1300

1500

1800

2000

Steam pressure

Mpa

0.3-0.6

Temperature

℃

Adjustable at the range from room temperature to 120℃

Working time

min

Decided in accordance with the properties of raw material

Field

%

≥99

Noise

dB(A)

When installation, main machine is separated from fan, noise ≤75dB

Size(LxWxH)

m

1.0x0.6
x2.1

1.2x0.7
x2.1

1.25x0.9
x2.5

1.6x1.1
x2.5

1.85x1.4
x3

2.2x1.65
x3.3

2.34x1.7
x3.8

2.8x2.0
x4.0

3x2.25
x4.4
Successful Experience Overseas By KODI FL Fluid Bed Granulator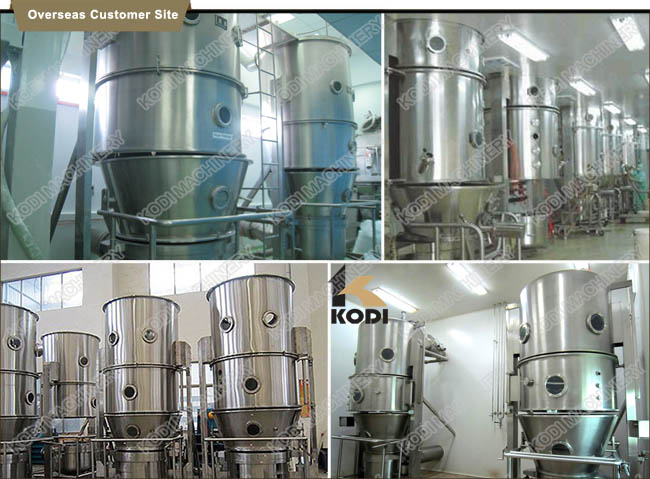 Packing & Delivery