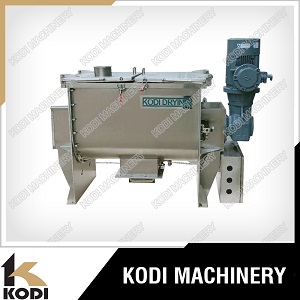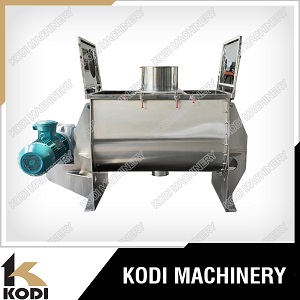 Description of Powder Ribbon Blender
Ribbon Blender is composed of container, screw stirring paddles and transitional parts: the screw paddle are generally made into 1 layers or 3 layers, the outer screw converge is the material to the center from two sides, and the inner layer of screw conveys the material to the two sides from the center, so as to from convection mixing of powder which needs to add liquid, and paste material.
Ribbon blender is characterized by big coefficient of loading, small occupied area and difficult to clean viscous material. So it is suitable for the mixing case, where the output is large and there is no need of displacing material variety frequently.
Main Use and Application of Ribbon Blender
The ribbon mixer is generally used to mix viscous or adhesive powder material,or powder with liquid additive,or pasty material.Because it is difficult to clean viscous material,the machine is good at mixing material with large capacity and continuous demand.
This machine is applied in the industry of pharmaceutical,foodstuff,chemical,pesticides,plastic,pigment and cosmetics.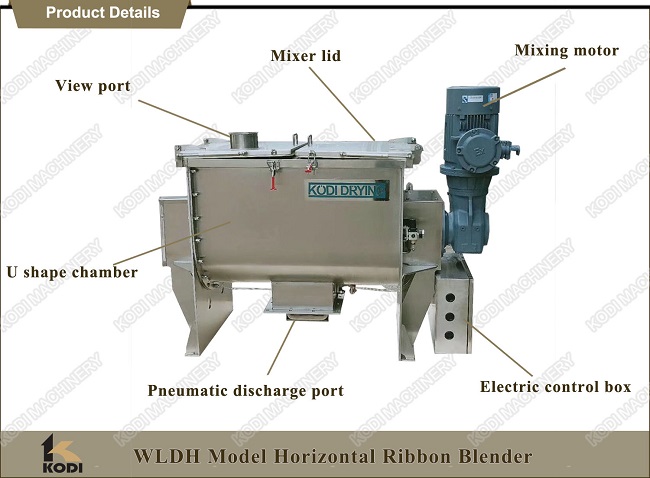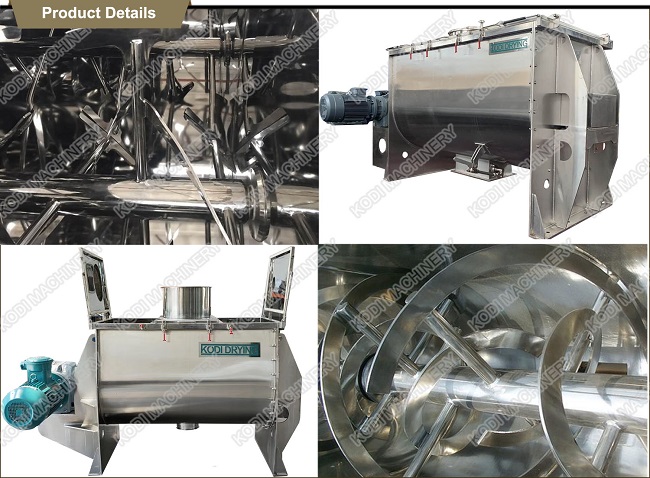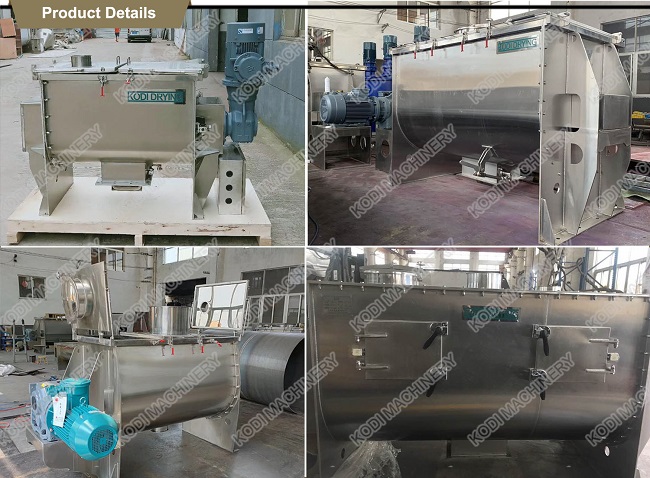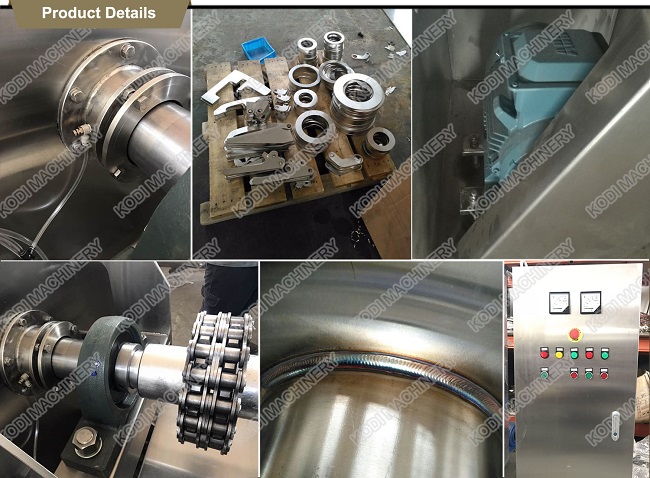 Features of KODI Horizontal Powder Ribbon Blender
1) Stable working, noiseless, easy to disassemble;
2) Available for continuous use;
3) Energy saving, compact structure, high precision transmission;
4) Strong loading capability and easy to assemble;
5) Less influenced by particle size and density;
6) With jacket or coil to heating;
7) Dedusting system and injection system for option;
8) Star/knife-edge/butterfly types valve for option;
9) Manual or pneumatic valve discharge.
Drawings of Powder Ribbon Blender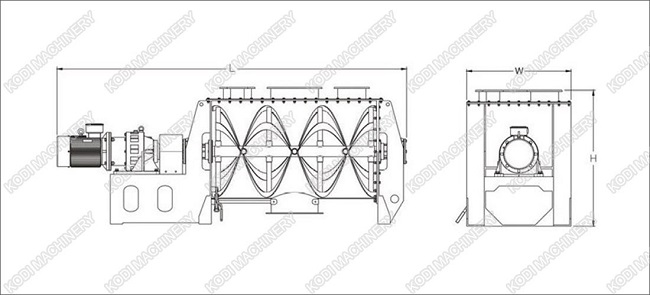 Packing and Delivery of KODI Ribbon Blender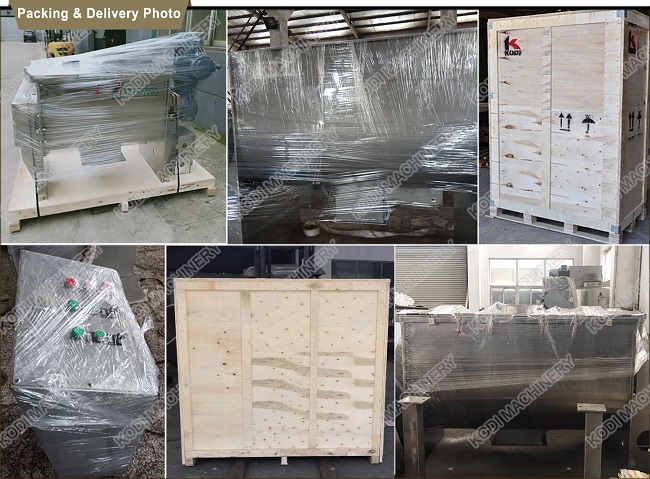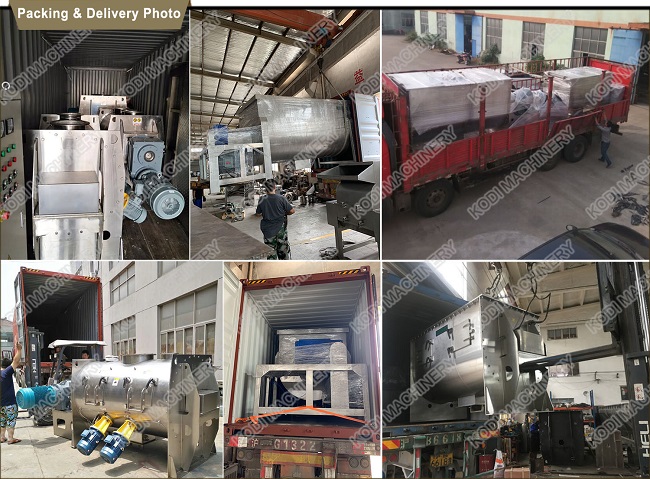 Technical Parameters of Ribbon Blender
Model

All volume
(M3)

Loads coefficient

Electrical machinery power
(KW)

Size(mm)× Max-diameter ×High

Equipment weight (kg)

WLDH-0.1

0.1

0.4-0.8

3

1190×740×770

330

WLDH-0.3

0.3

0.4-0.8

4

2030×630×980

720

WLDH-0.5

0.5

0.4-0.8

7.5

2320×730×1130

980

WLDH-1

1

0.4-0.8

11

2800×920×1320

1700

WLDH-1.5

1.5

0.4-0.8

11

3180×1020×1550

1800

WLDH-2

2

0.4-0.8

15

3310×1120×1640

2100

WLDH-3

3

0.4-0.8

18.5

3750×1290×1820

3000

WLDH-4

4

0.4-0.8

22

4220×1400×1990

3980

WLDH-5

5

0.4-0.8

22

4220×1500×2100

4620

WLDH-6

6

0.4-0.8

30

4700×1610×2260

6180

WLDH-8

8

0.4-0.8

37

4420×2150×2470

8200

WLDH-10

10

0.4-0.8

45

5520×2960×2720

8920

WLDH-12

12

0.4-0.8

45

5720×3010×2840

9520

WLDH-15

15

0.4-0.8

55

5840×3540×2940

9950