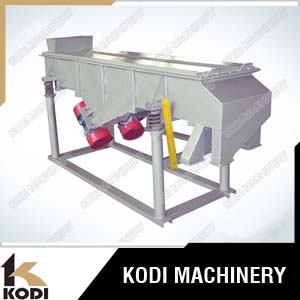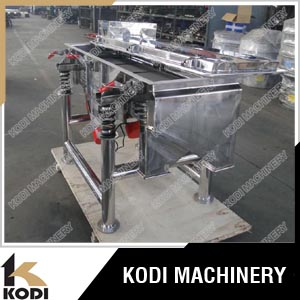 Linear Vibrating Screening Equipment Description

SZF series linear vibrating screen equipment is made of vibrating motor, screen box, screen, body mass vibration and damper. Materials are tossed at the same time move as a straight line. It can equip with single-layer or multi-layer screen to achieve the target of rating, impurity, removing powder, testing, washing, dehydration etc.
Application of KODI Linear Vibrating Screening Equipment
a. Chemical industry: resin pigment, medicine, grease, paint, palette, etc.
b. Abrasive material and ceramic industry: building sand,mica, alumina, abrasive, refractory material, slurry, etc.
c. Food industry: sugar, salt, alkali, gourmet powder, starch, milk powder, yeast powder, pollen, food additive, bean milk, juice, etc.
d. Paper-making industry: coated slurry, exhaust liquid, paper making liquid and waste water reclamation, etc.
e. Metallurgy and mining industry: quartz sand, ore, titanium oxide, zinc oxide, etc.
f. Mechanical industry: casting sand, powder metallurgy, electromagnetic material and metal powder, etc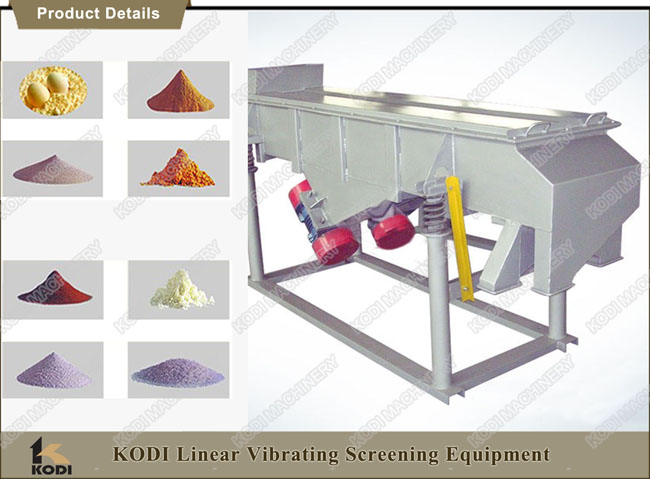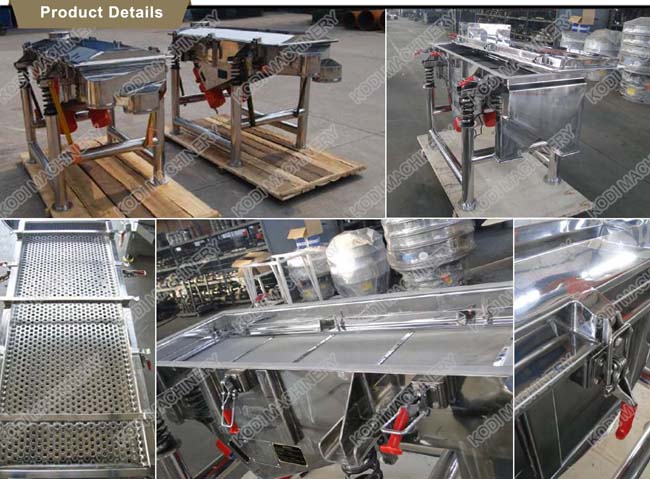 Linear Vibrating Screening Equipment Features
a.Rapid to replace the mesh, rapid tension.
b.High efficiency, low noise.
c.The way that materials are on the screen surface is long, high screen fineness, large handling capacity.
d.Screen and classify materials, at the same time, transport materials in a long distance.
e.According to the particle size, probability through the sieve, productivity, we can change the screen spacing and dip angle.
f.We can design different sizes and structures according to the production site.
Linear Vibrating Screening Equipment Working principle
When the two vibrating motor that installed vertically on the sieve relatively rotate, the eccentric block of two vibrating motors produce rated excitation force. The horizontal excitation force cancel each other out, the vertical excitation force is transported to the whole screen surface through the body mass vibration. Materials do the jumping movement on the screen surface to the outlet because of the vertical excitation force. Materials which smaller than the mesh drop into the lower layer and discharge from the outlet after doing the jumping movement. Because of the reasonable screen, after vibrating screen, we can get materials of different concentration particle sizes and done the rating work of materials.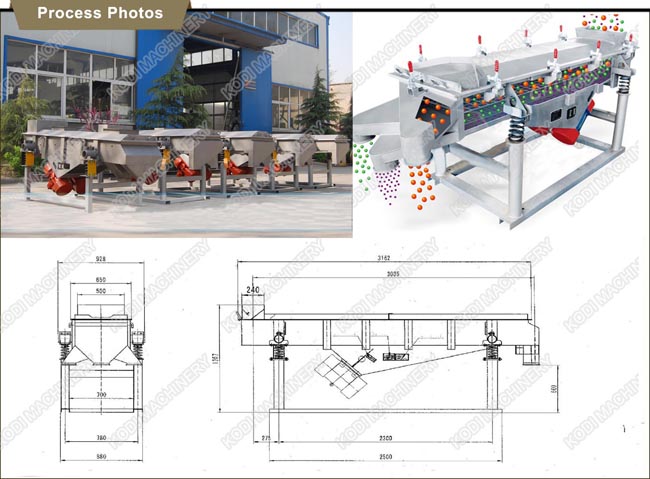 Linear Vibrating Screening Equipment Technical Parameter
Model

Nominal size (mm)

Material granularity(mm)

Screen angle(°)

Vibration amplitude(mm)

Layer(s)

Power(kw)

SZF520

500x2000

0.074-10

0°-7°

4-8

1-5

2x(0.4-0.75)

SZF525

500x2500

2x(0.4-0.75)

SZF530

500x3000

2x(0.75-1.1)

SZF535

500x3500

2x(0.75-1.1)

SZF1020

1000x2000

2x(0.75-1.5)

SZF1025

1000x2500

2x(1.1-1.5)

SZF1030

1000x3000

2x(1.5-1.8)

SZF1035

1000x3500

2x(1.5-2.2)

SZF1040

1000x4000

2x(1.5-2.2)

SZF1225

1200x2500

2x(1.5-2.2)

SZF1230

1200x3000

2x(1.8-3.0)

SZF1235

1200x3500

2x(1.8-3.0)

SZF1530

1500x3000

2x(2.2-3.0)

SZF1535

1500x3500

2x(2.2-3.0)

SZF1540

1500x4000

2x(2.2-4.0)
Delivery and Packing Photo