Seaweed Drying Machine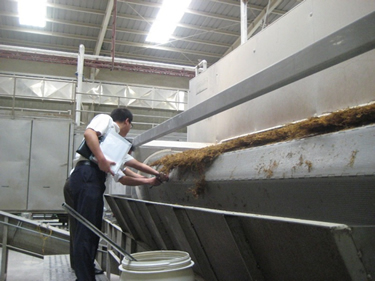 Description of Seaweed Drying Machine
The cottoni seaweed after washed should be distributed on the conveyer belt through suitable mechanism such as star distributor, swing conveyor, crusher or granulator, the conveyer passes through the channel including of one or several heating unit. Each heating unit is equipped with air heater and circle system. Each channel has one or several damp discharge systems. When the conveyer passes through it, hot air will pass through the seaweeds from up to down or from down to up. In this way the seaweeds can be dried uniformly.

Application of Seaweed Drying Machine
The Industrial continuous dryer is an industrial continuous drying equipment. It is widely used for chemical industry, foodstuff industry, pharmaceutical industry, construction materials industry, electronic industry and so on. Especially it is suitable for drying raw materials that are good in breathability and have the shape of pieces or strip of granule. It is also possible to dry the pasted raw materials such as filter cake after shaped through granulator or extruder.

Features of Seaweed dryer
1, Air quantity, heating temperature, materials staying time and feeding speed can be adjusted to achieve the best drying effect.
2,The equipment configuration is flexible, mesh belt washing system and materials cooling system can be used.
3,Most air is recycled to realize saving energy
4,The machine is equipped with unique air dividing apparatus, it makes the hot air distribute uniform better and guarantee the quality of products is constant.
5,Heating source can be steam, conduction oil,, electricity, coal (oil), or hot air furnace.