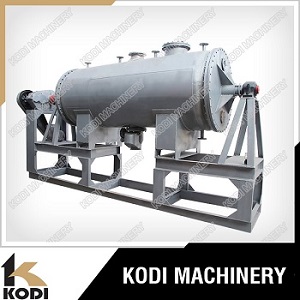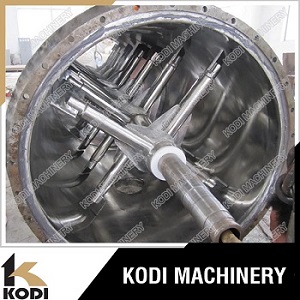 Description of Vacuum Harrow Dryer
Vacuum harrow dryer is mainly used in the explosive, easy oxidation, paste type material drying. In high vacuum operation, the solvent boiling point is reduced, and the air is isolated, to avoid the oxidation of materials in the process of drying and overheating deterioration.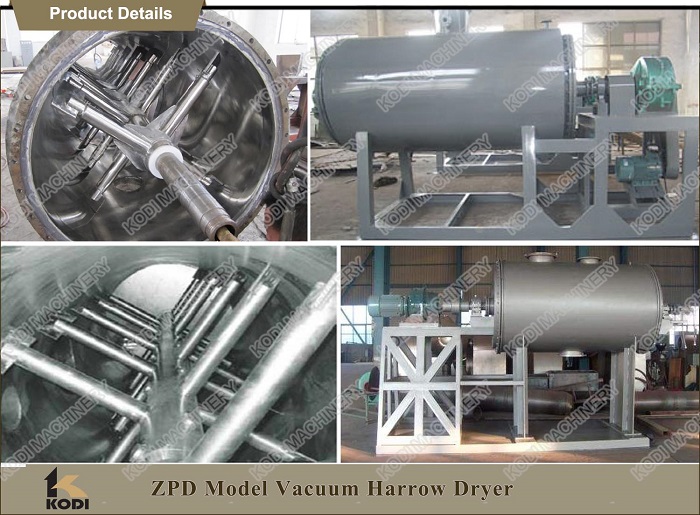 Features of Vacuum Harrow Dryer
(1) the material is even dry; avoid oxidation, overheating; can get very low moisture content of the product, Packaging can be done without crushing operation.
(2) the evaporation intensity is high, generally can evaporate 2-10kg (water) / m2 x h.
(3) no air intervention, condenser load is very small, can be easily recycled material solvent.
(4) the solvent vapor entrainment is filtered by the bag filter without environmental pollution.
(5) energy consumption: General evaporation 1kg water vapor 1.3-1.5kg.
(6) the discharge valve is pneumatic short diameter ball valve, discharge convenient, and no accumulation phenomenon.
(7) the hot medium can be used water vapor, heat transfer oil, hot water.
Applications of Vacuum Harrow Dryer
a. The following raw materials from pharmaceutical industry, foodstuff industry, chemical industry and so on can be dried.
b. Suitable for pulpiness, paste-like mixture or powder raw materials.
c. Thermal sensitive raw materials having the requirement to dry at lower temperature.
d. Raw materials that are easy to oxidize or explode and have strong irritative or toxic.
e. Raw materials that need recover solvent.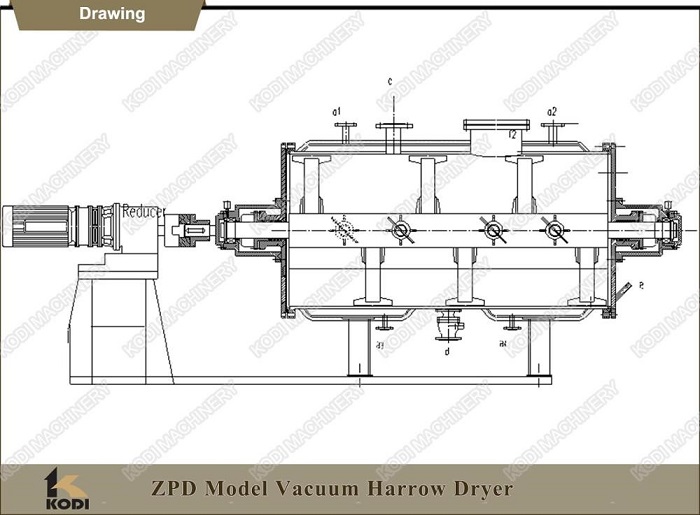 Technic Parameter of Vacuum Harrow Dryer
Item
ZPG-500
ZPG-1000
ZPG-1500
ZPG-2000
ZPG-3000
Working volume L
300
600
900
1200
1800
Stirring speed rpm
10-15
10
10
8-10
8-10
Power
2.2
3
4
4
5.5
Jacket design pressure Mpa
≤0.3
Cylinder inner pressure
-0.09~ -0.096
Packing & Delivery of Industrial Vacuum Harrow Dryer