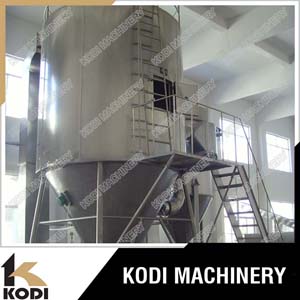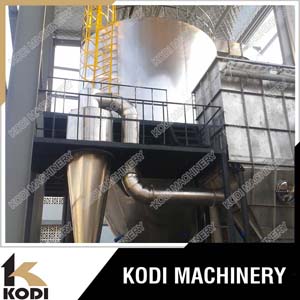 Description of Herbal Extraction Spray Dryer
Chinese herbal medicine extract is refined from root, stem and leaves of plants, and contains high sugar especially from alcoholization process, which is easy melted at high temperature. Normal centrifugal spraying cannot meet its drying requirements. For that reason, our company organized a group of technicians to develop such a dryer especially used for Chinese herbal medicine extract after repeated calculations and countless tests on the basis of our experience to make spraying dryer and collect advantages of same kind of dryers from both domestic and abroad.
Application of KODI Herbal Extraction Spray Dryer
1. Liquid, paste, soupy, material, like: salty essence, broth essence, soy sauce powder, amino acid, vinegar powder.
2. Food additives, fish protein, egg powders, mushroom powder, maltodextrin, etc.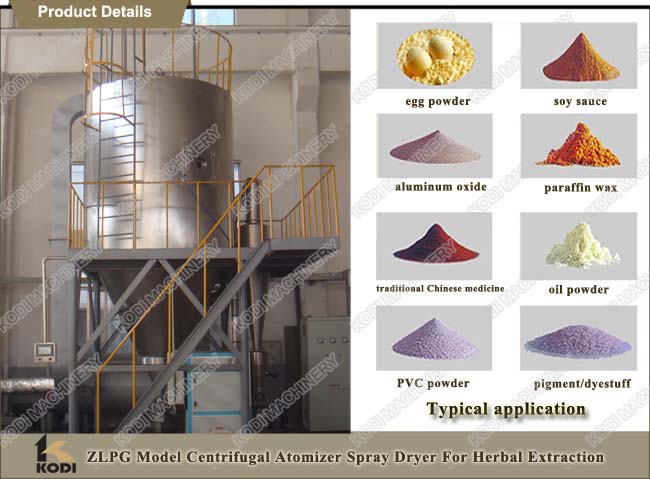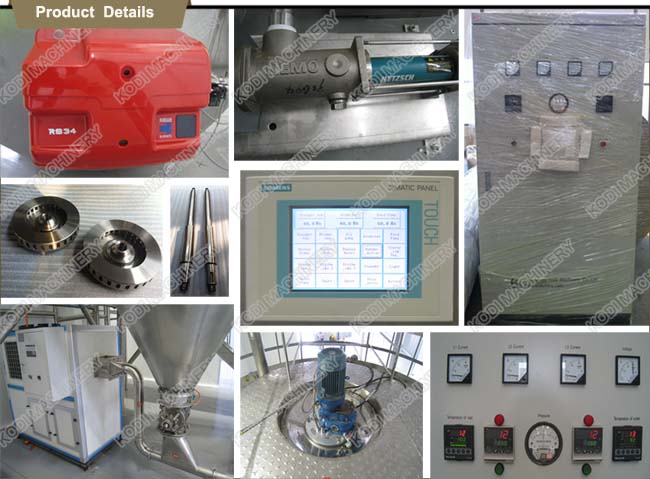 Final Product of KODI Spray Dryer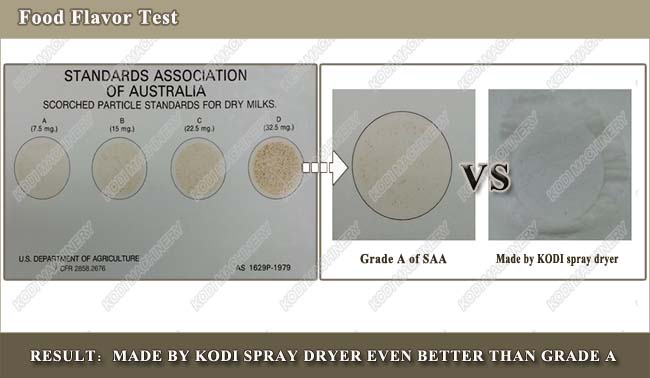 Herbal Extraction Spray Dryer Features
1. This unit uses higher linear speed centrifugal atomizer, link speed achieves 16000rpm, it is suitable for drying and granulating high solid content liquid state materials.
2. Uses eliminated dehumidification and cooling technology, it is suitable for viscosity, oiliness, heat sensitivity, moisture property material drying and granulating.
3. Uses centralized purification collection, finished product can be collected in clean room, which achieves high standard of hygienic requests, and avoid the pollution of ambient air.
4. This unit uses three levels independent discharging system and multiple stages washing spray technology, enhance the recovery of products.
5. Uses whirlwind cutting in and inlet air broom the wall to prevent materials sticking on the inside wall.
6. This unit is match with infrared temperature measurement, intelligent automatic control technology. Through real temperature feedback, automatic adjusts liquid material feed capacity, guarantees the finished products' quality. By the function of program design, encrypt, correct, etc. And PLC operation system, effectively enhance the accuracy of process parameter execution, thus guarantee the products quality and improve the modern product management level.
7. In order to facilitate the operation of this unit, according to actual situation, the heating sources can be electricity, steam, fuel, gas, etc.
8. Jam prevent technology is used.
Working principle
Packing and Delivery of KODI ZLPG Spray Dryer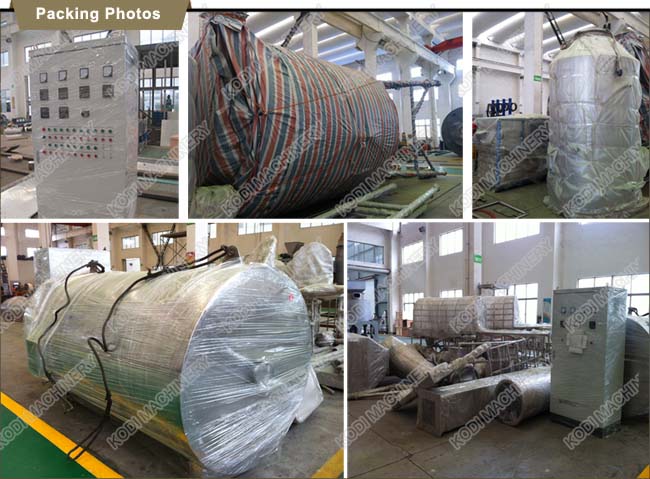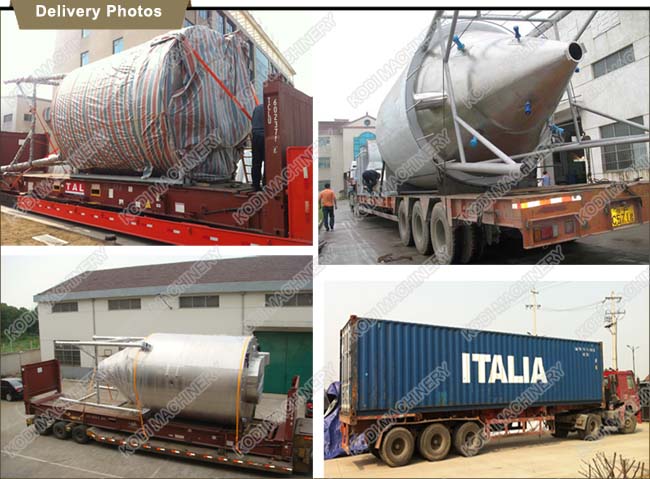 Successful Experience Overseas of KODI ZLPG Spray Dryer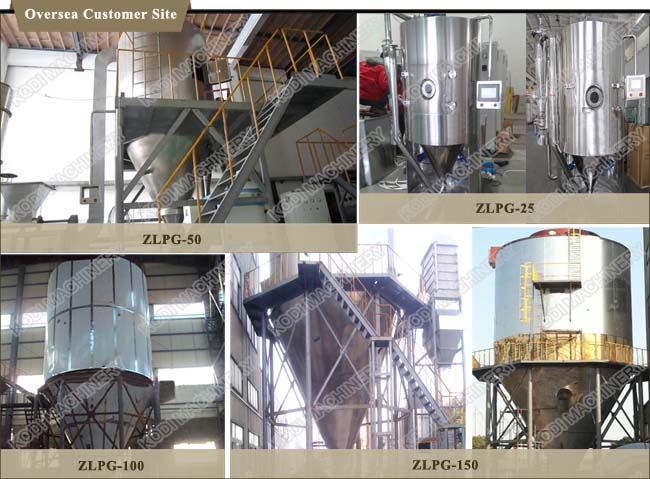 Technical parameters
Model

ZLPG-5

ZLPG-10

ZLPG-25

ZLPG-50

ZLPG-80

ZLPG-100

ZLPG-150

ZLPG-

200

ZLPG-

300

Water evaporation(kg/h)

5

10

25

50

80

100

150

200

300

Liquid input amount(kg/h)

6-7

12-14

25-34

50-68

80-108

100-135

150-203

200-270

300-406

Capacity (kg/h)

1-2

2-4

4.8-7.2

9.2-14

14.8-22.4

18.4-28

28-42

36.8-56.4

55-85

Solid content of liquid material(%)

18-25%

Water content of final product(%)

3-5%

Power(kw)

36

45

63

99

132

153

204

246

330

Heat source

Steam + electricity

Collecting way of product and its efficiency

Two grade cyclone separator or one-grade cyclone separator and one grade film duster≥95%

Auto-control instrument

Indicator of hot air temperature and outlet air temperature, temperature auto regulating controller

Inlet air temperature(℃)

150-200

Outlet air temperature(℃)

80-100

Overall dimension

(mm)

L

5000

5500

7000

8000

9800

11000

12200

14100

15000

W

3000

3500

4000

5000

5700

6200

7000

7800

9000

H

4500

4600

5200

6500

7600

8100

9000

9850

11100