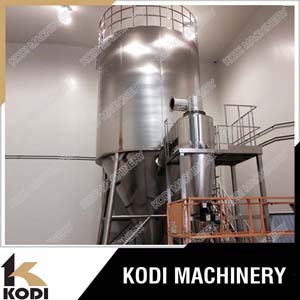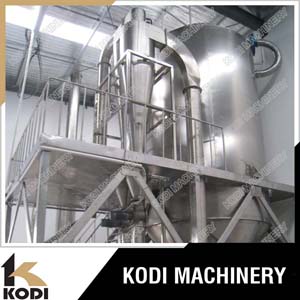 Description of Spray Dryer
KODI flavor spray dryer is a wide applied process in liquid process shaping and drying industry. Particularly it is suitable for producing powder, granule or block solid product from solution, emulsion, suspending liquid and pumped paste liquid. Therefore when the distribution of granule size, final moisture, bulk density, granule shape of finished product must be conformed to accuracy standard, the spray drying is an ideal process.
Special for flavor
KODI Company make our TPG spray dryer with some modification against the regular model spray dryer to let the TPG model spray dryer be more suitable for flavor spray drying. We have many years of flavor spray dryer design and commissioning for different customers. The powder yield from our dryer reach amazing 99.9% for malt dextrin. and the purity reach A grade of American standard.
Spray Dryer Application
It's widely used in foodstuff, pharmaceutical and chemical industry, such as egg powder, amino acid product, protein, blood, food flavor, food ingredients, pectin, carrageenan, spirulina, herbal extraction, pigment, cocoa, mushroom, PAC, malt dextrin, collagen, juice , yeast, Coffee, Creamer, coconut, milk, gelatin, gum and acacia etc.
Working principle of KODI Flavor Spray Dryer
After filtering and heating, the hot fresh air enter into the air distributor at the top of drying chamber, distributed in spiral way uniformly from up to down. At the same time, the feeding liquid is pumped to the top atomizer, then be sprayed to extremely fine mist liquid drop. Through the short time of direct contact with hot air, the moisture evaporated at once, the solid remains to be powder. The dry powder will be discharged continuously from the bottom of drying tower and cyclone collector, the exhaust air will be discharged after cleaning.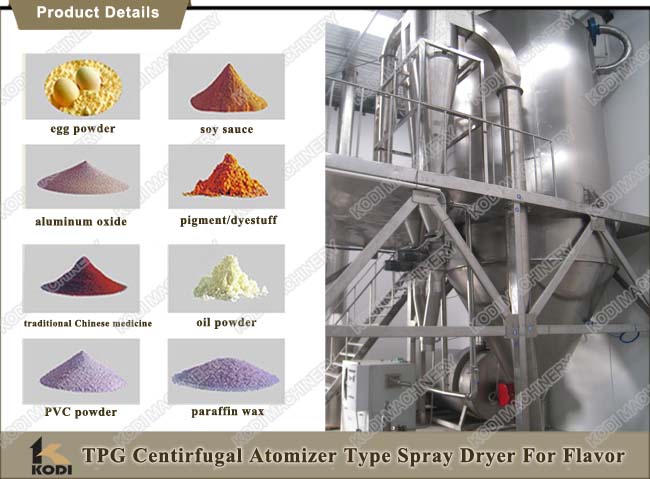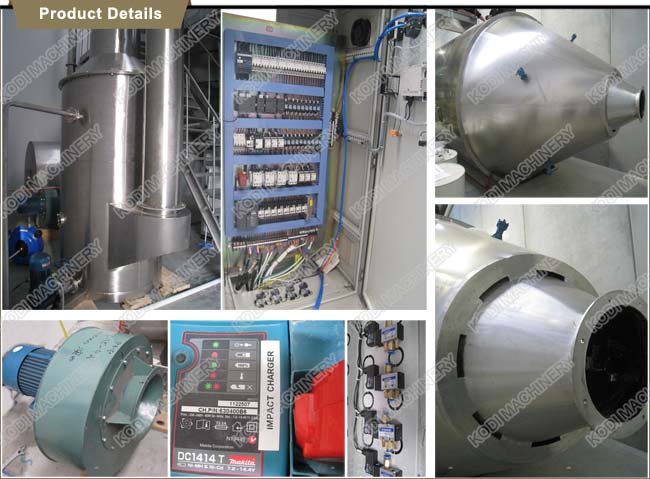 Final Product of KODI LPG Food Spray Dryer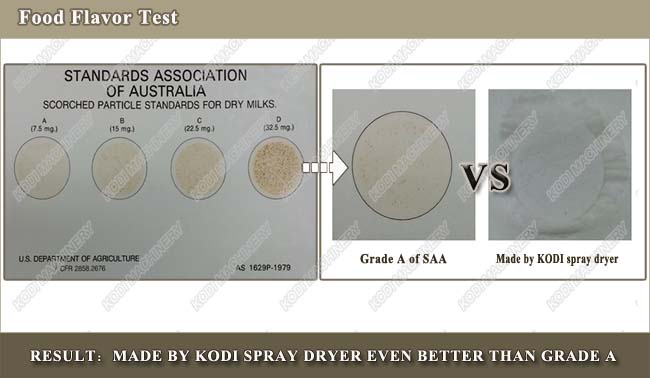 Packing and Delivery of KODI TPG Flavor Spray Dryer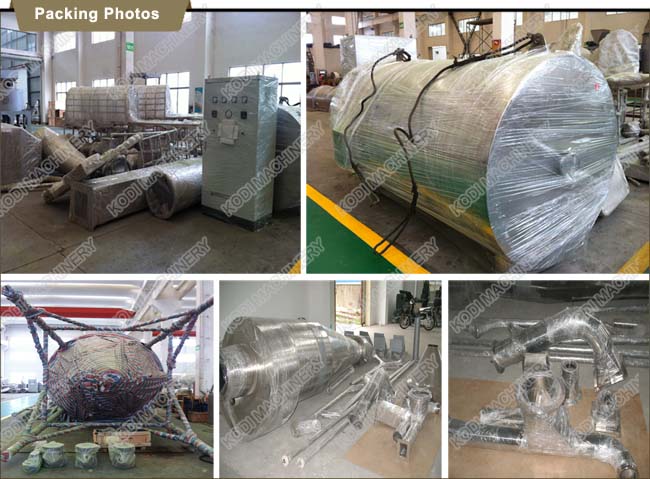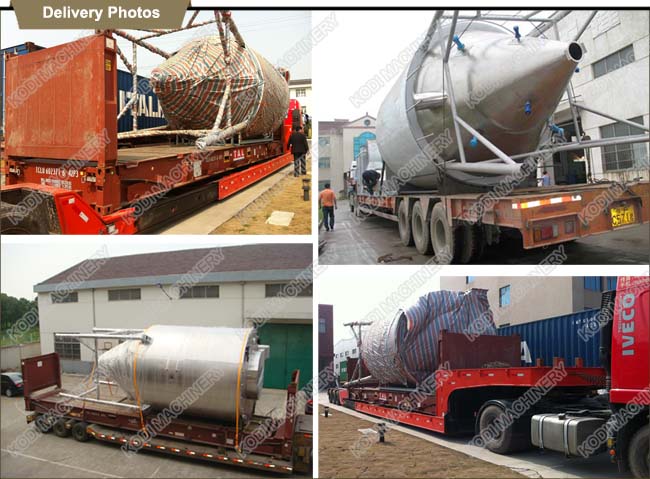 Successful Experience Overseas of KODI Flavor Spray Dryer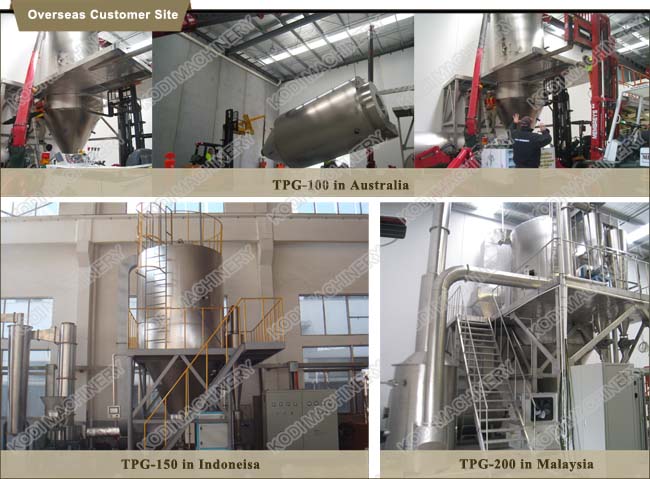 Technical Parameter
Model

Spray Dryer MODEL TPG-

5

25

50

100

150

200-5000

Inlet air temperature

≤ 350°C

Outlet air temperature

80-90°C

Evaporate capacity (kg/h)

5

25

50

100

150

200-5000

Atomizer type

compressed air drive

mechanical drive

Rotary speed

25000

22000

21500

18000

18000

15000

Diameter of atomizer disc (mm)

50

120

120

120

150

180-500

Heating source

Electricity

Electricity/LPG/

Natural gas/Oil/Steam

Electricity/LPG/

Natural gas/Oil/Steam

Electricity/LPG/

Natural gas/Oil/Steam

Electricity/LPG/

Natural gas/Oil/Steam

Electricity/LPG/

Natural gas/Oil/Steam

Electric-heating power (kw)

9

-

-

-

-

-

Dry powder yield (%)

≥ 95

≥ 95

≥ 95

≥ 95

≥ 95

≥ 95